Dakota Bedbug Detection (DBD) has been providing bedbugs to canine handlers and research facilities for almost a decade. DBD's colony was created from a work site collection in 2011.
No pesticide introductions or outside specimens have been added to this original colony.
Thus, DBD's colony is considered a Harlan strain sample!
DBD's colony is large enough to support virtually any size order. The individual handling all orders has a master's degree in Entomology, so special orders (e.g., specific life stages, sexes) are no problem.
All specimens are fed prior to shipment and are packaged to ensure minimal mortality due to temperature extremes and carrier handling. Specimens will typically live for 4-6 weeks if kept in a temperate environment. Extreme fluctuations in temperature could have a dire effect on your colony, so DBD suggests placement indoors in a drawer with minimal handling.
Orders are typically completed within 24 hours, unless otherwise discussed. Weekend shipments will dramatically delay receipt. So, if arrival times are critical, please discuss appropriate shipping when ordering
DBD will only send specimens to individuals, businesses, or organizations with a legitimate need for their use. DBD reserves the right to deny purchases if documentation provided does not meet DBD's standards!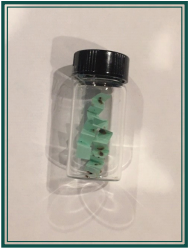 This 2.25" tall, 1" diameter glass vial, comes with a double layer of screening (1 fine and 1 wide weave mesh) to ensure small nymphs cannot escape.
This vial can hold up to 25 bedbugs without issue and is the perfect for almost any training environment.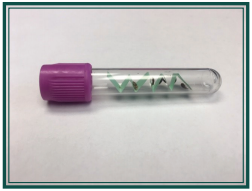 This 3" tall, 0.5" diameter plastic tube has a smaller than average opening.
This is particularly useful when preparing for NESDCA testing, in tight spaces, and when "proofing-off" your canine from the Standard Trainer.
This 3" tall and 1.5" diameter large, plastic vial can accommodate larger quantities of bedbugs or be used to store a small colony.
The size of the opening can create a large scent plumb, which makes it perfect for initial training. It will also allow a handler to experiment with accidental finds and training without a lead.
These 1.5" by 1.5" (internal measurement) mesh pouches are
reinforced with double seams on all sides to prevent escape.
A small square of corrugated cardboard provides a substrate to protect the bedbugs during handling.
These pouches are a perfect alternative for training your canine on baseboards, outlets, behind headboards, or the underside of chairs and tables.
These pouches are not refillable and can contain a maximum of 6 adult bedbugs.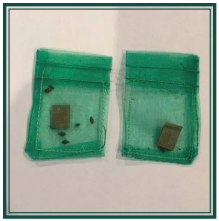 Below is our pricing based on a "typical" quantity of bedbugs for each trainer. None of these prices include charges for shipping and handling.
Standard Trainer containing 12 Bedbugs = $25.00
Advanced Trainer containing 6 Bedbugs = $20.00
Training Pouch containing 6 Bedbugs = $15.00
Beginning Trainer containing 50 Bedbugs = $75.00
Please Note: Every effort will be made to ensure all bedbugs arrive alive and healthy. However, once in the hands of a carrier we have no control over their handling. While a minimal amount of mortality is unavoidable, there is alsothe potential for eggs to be laid and possibly hatch. Therefore, exact counts are not guaranteed. In the event of excessive mortality, DBD will work with you to determine the cause and a mutually agreeable solution.
DBD can also set you up on a schedule of shipments and payments to make sure you always have the training specimens you need!
Training Starter Package
1 – Beginning Trainer with 50 Bedbugs
3 – Standard Trainers with 12 Bedbugs in each
Bought Separately = $150.00
Bought as a Package = $125.00

Full Training Package
2 – Standard Trainers with 12 Bedbugs in each
1 – Advanced Trainer with 6 Bedbugs
2 – Training Pouches with 6 Bedbugs in Each
Bought Separately = $100.00
Bought as a Package = $80.00
Entomological Research
DBD understands the special needs of researchers. Please call to discuss the type of research and the characteristics you are needing. At that point, DBD will work with you on a price, mode of shipping, and type of containment.
International Customers
DBD follows all laws when shipping across national borders. Even when following all shipping protocols and laws, it is not uncommon to have specimens delayed in customs. Therefore, while DBD will work with international clients, DBD will not guarantee delivery of a healthy sample.
Prior to processing any order, you must agree to terms relating to liability if the shipment arrives dead, is delayed, or is not delivered.
www.dakotabedbugdetection.com
DakotaBedbugDetection@gmail.com
1425 W. Waterstone Drive
Sioux Falls, SD 57108